Home
Photos
Summer Camp
Registration
Contact Us
Working at Camp
Home
REGISTRATION NOW OPEN!
A SPECIAL MESSAGE TO OUR CAMPERS
Camp Potlatch is SO excited to be welcoming you all back this summer! However, COVID-19 isn't completely behind us yet.
As you'd expect, health and safety is a top priority. We call that out because we want you to know that we'll be ready to open for another 'best summer ever' experience – supported by our usual rigorous safety protocols and including following Public Health Orders and the related BC Camping Association COVID-19 Safety Requirements. That means that we will be prepared to respond to any illness that may arise in real time. We'll be offering and encouraging frequent hand washing/sanitizing, and frequent cleaning. Both staff and campers will be expected to stay home when sick. Before heading to camp, staff members will do a brief health check for campers and staff, and our Camp Nurse will be onsite to help should symptoms develop during the camp session.
We had an amazing 2022 season and we're excited and confident that summer 2023 at Camp Potlatch is going to be GREAT.

ABOUT CAMP POTLATCH
Located on 133 acres along the picturesque shores of the beautiful Howe Sound, Camp Potlatch creates the perfect backdrop for your family's vacation.
Whether you're looking to relax on our sandy beach, hike through trails of unspoiled ancient old growth forest, or try your hand at one of our fleet of paddleboards, canoes, and kayaks, Potlatch offers a little something for everybody. One of our traditional cedar pan-abode cabins will become your home-away-from-home and where your family reconnects and makes memories that last a lifetime.
Photos
Check out our Flickr site for more great shots!

Incredible Programs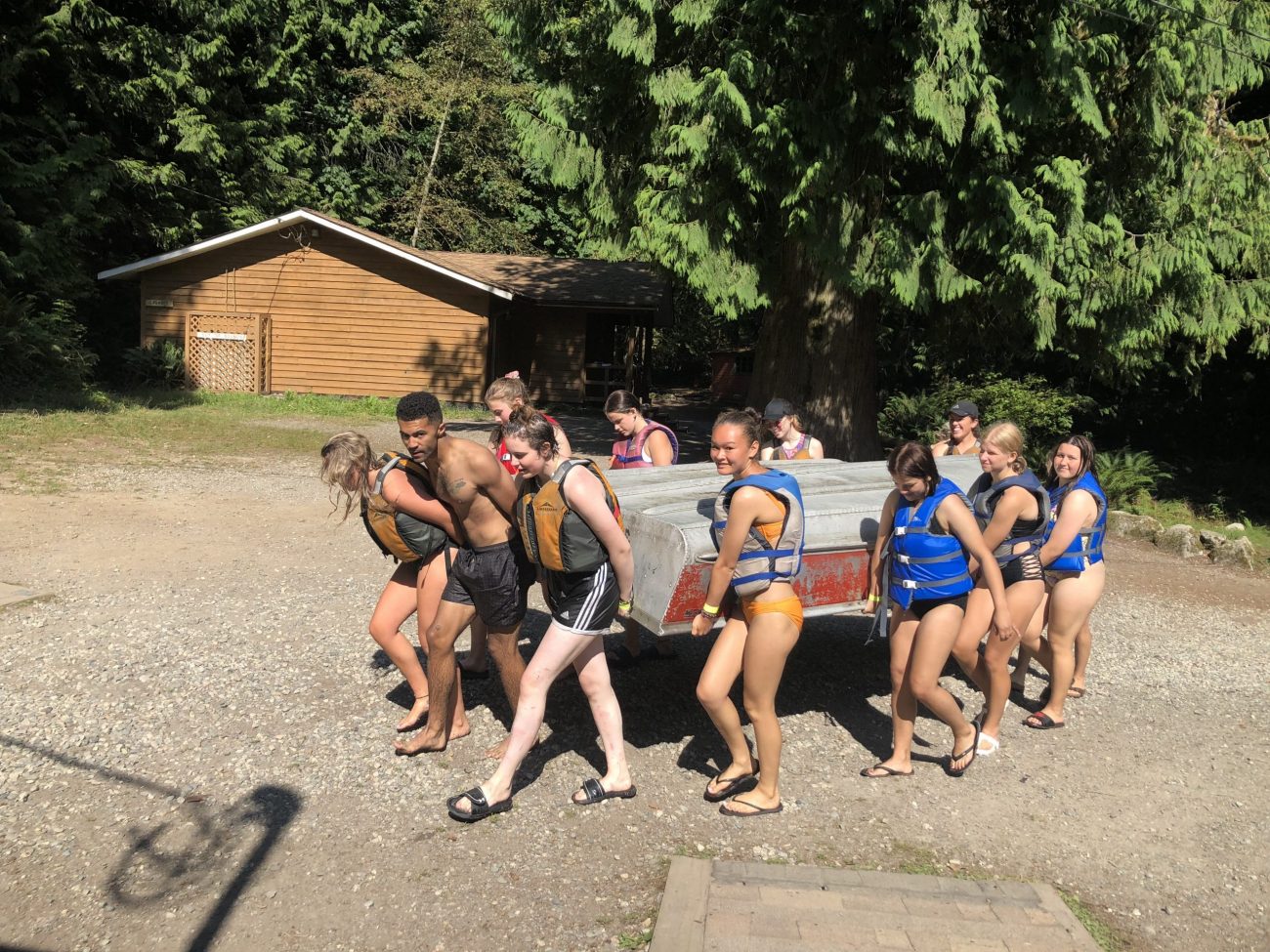 Site Shots
Summer Camp
Registration opens March 1st at 10:30am!
Welcoming over 1,000 campers each summer, Camp Potlatch has become a home-away-from-home for many. Whether you're keen to reach new heights on a natural rock wall, hit a bullseye at the archery range, or search for marine life along 1.5km of pristine coastal shoreline, Potlatch has something for every type of adventurer! Our overnight summer programs combine traditional camp activities with a focus on creating a sense of community, increasing self-confidence, and building resiliency in each and every one of our campers.

Main Camp
Ignite your Camp Potlatch spirit in our incredible Main Camp program!
For children between the ages 7-14, Potlatch's week-long Main Camp gives campers the opportunity to explore a variety of traditional camp activities while living in a positive and supportive cabin community. All activities are fun, age appropriate, and closely supervised by our enthusiastic and highly trained staff team. In addition to a wide variety of camp activities, each camper in the Main Camp program participates in a 24 hour off-site excursion. Travelling to one of our many wilderness camp sites either by land or sea, campers sleep under the stars in this once in a lifetime out-trip experience.
So many activities to try!
Stand-up Paddle Boarding
Fishing
Archery
Hiking
Arts and Crafts
Kayaking
Rock Climbing
The list goes on and on!
Our program design encourages returning campers to continually progress their skill level in each of the activities we offer. While your first summer might be the first time you paddle a canoe, by your third or fourth, you'll be learning advanced paddling techniques and rescues! Whatever your interest, the sky's the limit at Potlatch!

Leadership Programs
Camp Potlatch's wilderness leadership camps transports participants 'across the creek' and away from the familiar comforts of Main Camp, to create an environment that inspires individual and group growth. All leadership programs focus on the development of hard and soft skills, group problem-solving, and acquiring the necessary training required to be an effective camp leader. Our Leadership Camps inspire campers to be the best people they can be and to recognize the value they have to the world. Keep the tradition alive this summer!
Leadership Camp 1 (Ages 15)
Leadership Camp 1 (LC1) is a 2-week program for teens who are looking to further develop the camping skills they learned through their time in Main Camp, though campers new to Camp Potlatch have started their journey with this Leadership Camp.
LC1 campers have a stronger focus on extended out trips, with sites reached by both land and sea.
NOTE: Time is split between Main Camp and sleeping on trip/under the stars etc.
On trip: Preparing their own meals and learning the importance of teamwork, while living in the natural environment.
Due to the focus on extended wilderness camping skills, it is important that all campers arrive at Camp Potlatch with the proper gear to ensure a successful two weeks in the woods.
Leadership Camp 2 (Ages 16)
Leadership Camp 2 (LC2) is the final step in Camp Potlatch's leadership program. This is an intensive counsellor-in-training program for teenagers who are motivated to become awesome camp staff. LC2 is a co-ed program that continues outdoor leadership skills development, with additional focus on camper care, program planning and building a tool box with tips and tricks to become an extraordinary camp leader.
This program is for mature teens who have previous outdoor camping experience, and who have the capacity and drive to take on the challenges of personal and group achievement. Participants will be given the opportunity to develop effective communication, teamwork, and leadership skills.
2023 Session Dates and Rates (subsidies available)
Main Camp Sessions
Session
Gender
Dates
Rates
Leadership Camp 1
Session
Gender
Dates
Rates
Leadership Camp 2
Session
Gender
Dates
Rates
Registration
REGISTRATION NOW OPEN!
Ways to Register
There are three ways to register for summer camp programs: online, in person, or over the phone.
For site rentals, contact the Outdoor Centre Coordinator at adventure@bgcbc.ca
Please note: Online registration requires a credit card payment, with a minimum deposit of $185 per session.
If you require financial assistance, please contact our office at 604.324.2267.

Registration Forms

Parent Resources

Camp Fees
The true cost for one week at Camp Potlatch is $1,250 per camper.  For decades, we've offered a lower "regular rate" because of our fundraising efforts. Those "regular rates" are listed with the session dates. As always, we ask you to pay what you can (including the full, true cost if you're able).
If you need more help with camp fees, please call us.
We believe that every kid who wants to go to camp should get to go.

2023 Session Dates and Rates (subsidies available)
Main Camp Sessions
Session
Gender
Dates
Rates
Leadership Camp 1
Session
Gender
Dates
Rates
Leadership Camp 2
Session
Gender
Dates
Rates
Outdoor Centre Rentals
Camp Potlatch Outdoor Centre is the perfect location to host your group! From outdoor-experiential education programs, to corporate teambuilding retreats and family reunions, our experienced staff team are here to design and tailor your camp experience to meet the aims of your trip.
The site, nestled amongst old growth forest, with spectacular views of Anvil Island from our sandy beach, immediately takes you far from the hustle and bustle of the city. Less than an hour from Horseshoe Bay feels like a whole other world!
Our custom packages include everything. We don't charge extra for any activities or instruction. Ever. The excitement really starts at Horseshoe Bay where you'll meet the water taxi, organized by Camp and included in your package, making the drive to camp one of the shortest in the lower mainland!
All of our traditional Camp-based programming can be incorporated into your schedule, and includes:
Canoeing
Rock Climbing (on our real rock wall!)
Hiking
Kayaking
Archery
Team Building Challenges
Overnight camping trips
And so much more…
For more information on our Outdoor Centre programs, please download the Outdoor Centre Handbook!

Outdoor Centre Handbook
Don't miss out on your chance to experience Camp Potlatch's Outdoor Centre by booking now to reserve your spot!
For more information, please contact Outdoor Centre Coordinator at adventure@bgcbc.ca or call our Vancouver office 604.324.CAMP(2267).
Contact Us
Camp Potlatch is owned and operated by BGC South Coast BC.
On-Site (May-October)
PO Box 130
Britannia Beach, BC V0N 1J0

Working at Camp
BGC'S Camp Potlatch is now hiring for our 2023 season! After two long years away, we're excited to return to site and look forward to welcoming staff and campers back for upcoming spring and summer programs. Please check our Staff Application Guide for information about available positions, and directions for applying. If you have any questions, please connect with Ian Richardson.

Staff Application Guide

Check out the following jobs available at Camp Potlatch!